TOOTH JEWERLY
CHOOSE YOUR DESIGN...
AND MAKE A STATEMENT WITH EACH SMILE!
Safe and Easy to Apply
Temporary
Painless
No Drilling
Does not Harm Teeth
What is DecoDent Tooth Jewelry?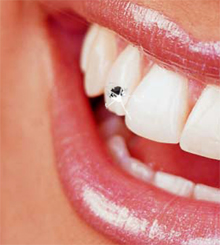 Tooth Jewels are small crystals or gold jewels temporary attached to your teeth without any harm. Is is the latest fashion in body art sweeping the planet. Best of all: Tooth jewels are a reversible and temporary fashion! Adding some sparkle to your smile can be done without pain in just a few minutes.
Make an appointment today, tel: 718-383-1270